Outdoor Kitchens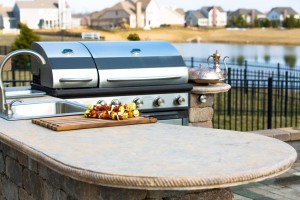 A brick paver or stone paver outdoor kitchen is a great way to add value to your home and improve the appearance of your backyard at the same time. There is nothing like having a second cooking space at your home for when you host large parties for family and friends. Our staff has experience constructing these types of cooking spaces in the for properties of all sizes.
When you want to give your yard a makeover, one option is to have an outdoor kitchen installed in your patio. These can be installed in the middle of your yard, up against your house, or in a shed of some sort. Ones that are placed in the middle of the yard can be surrounded by beautiful stone or brick pavers.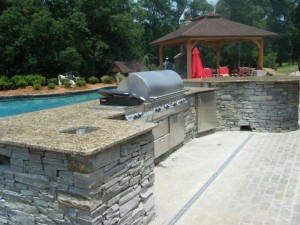 We pride ourselves on providing our clients with high quality work on every Fort Lauderdale outdoor kitchen project.  You no longer have to drag the grill with broken wheels from the shed when you are having a party. Now, your cooking space will remain in one place and last a lot longer than a grill. Contactus today to schedule an appointment with one of our experienced paver experts today (954) 914-7988.